About Hestria
Hestria is a community of owners administration office located in the south of Tenerife. We are a company with over 10 years' experience working in various areas such as Playa de las Américas, Los Cristianos, Torviscas, Callao Salvaje, Palm-Mar, Costa del Silencio, Amarilla Golf, etc.
The company comprises of 6 people, and we all speak more than one language, out of Spanish, English, Dutch, French and German. We are a totally independent company with no contracts or agreements with developers or builders, as that way we can remain impartial and thus avoid conflicts of interest. Our philosophy is that the community administrator should remain loyal at all times to the community of owners.
Our office is open to the public from Monday to Friday from 9.00 to 13.30. We have 6 telephone lines, so we can always be contacted, and emails are usually answered within 24 hours. The president of the community has our private mobile telephone number for any emergencies that may arise during the hours the office is closed.
The virtual office (access via personal password) ensures transparency and provides useful, important information to the owners. Our website has its own section dedicated to the 24-hour office, including how to gain access.
At Hestria we have the most advanced technical tools for both the effective management of communities and efficient control of quotas, costs and incidents. See the developments section for more detailed information.
We provide services such as:
Community constitution (obtaining the CIF (Fiscal Identity Number), official registered minutes' book, etc.);
Preparation of monthly, quarterly and yearly community accounts;
Management of community quotas, control over payments, speeding up late payments, etc.);
Full preparation of the ordinary general meeting and attendance of the same;
Presentation of the balance sheet from the previous financial year, and the budget for the following year, at the ordinary general meeting;
Writing the minutes of the general meetings and sending out important notifications to the owners throughout the year;
Drawing up of internal rules and/or statutes;
Requests for estimates and contracting of all the services necessary for the smooth running of the community;
Taking care of all matters that have been agreed at the general meeting and any other matter necessary for the smooth running of the community,
​​ Etc.
At Hestria we are aware that not every complex is the same and, when necessary, we will seek individual solutions for your community. For more information you can always contact us for a free, informal meeting. To do this, you can also take a look at the section "quotation" on this website.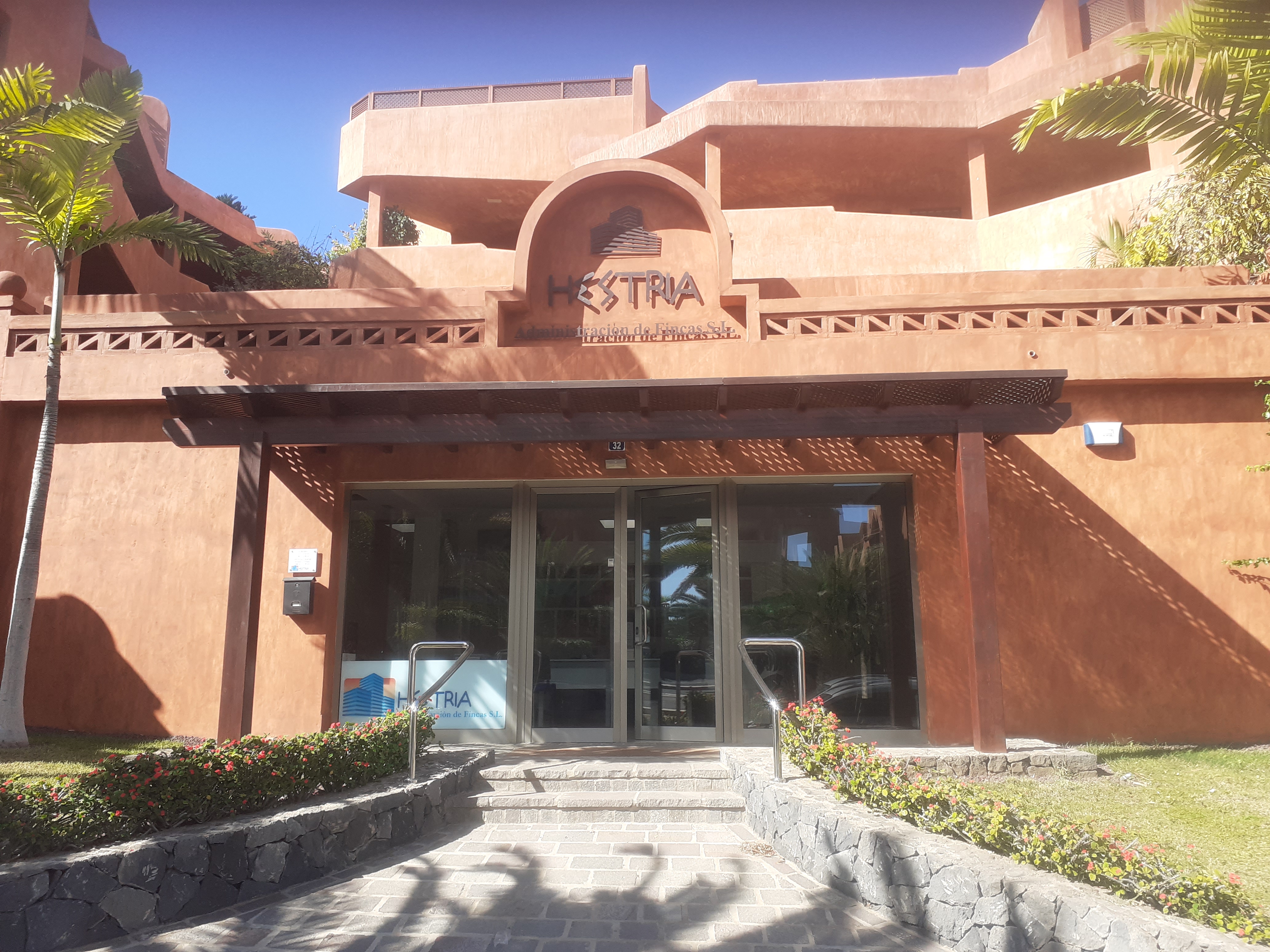 Contact
Hestria Administración de Fincas S.L.
Av. Flamingo, 32
38632 Palm-Mar (Arona)
Santa Cruz de Tenerife
(+34) 922 795 613
info@hestria.es